CGA 580 valve ISO9809 seamless steel water capacity 40L 6M3 oxygen argon gas cylinder
Product Description
Seamless Steel High Pressure 40L 150Bar Oxygen
Gas Cylinder
   Product DescriptionThe industrial
Oxygen cylinder
are all made by high quality seamless steel pipe,consistent height, smoothly painting, and excellent properties, which is widely used for steel cutting, welding, electronic, medical and other fields.and are supposed to be used repeatedly for keeping argon which is mainly used for steel cutting, welding, electronic, medical and so on.
Type
ISO9809-3 oxygen Cylinder
Outside diameter
219mm
Water capacity
40L
Height
1315mm
Working pressure
150Bar
With Cap Height
1445mm
Test pressure
250Bar
Weight
48kg
Design wall thickness
5.7mm
Material
37Mn
Storage Gas
6M3
 
 
Color
Green, Black, White, Blue, Yellow, as Requested/as per your requested
Filling medium
Air, oxygen, argon, hydrogen, helium, nitrogen, carbon dioxide, spacial gas and Mix gas
Packing
1.bulk loading; 2.packed in plastic woven net; 3.packed in wooden pallets; 4.as required.
About SEFIC
As a China gas cylinder manufacturer, SEFIC offers Oxygen gas Cylinder, Nitrogen gas Cylinder, Argon gas Cylinder, CO2 gas Cylinder, Hydrogen gas Cylinder, Helium gas cylinder, Acetylene gas cylinder, CO2 Cartridge and Aluminum cylinder … CE/TUV certified.
 ISO9809-3 40L 150bar oxygen gas cylinder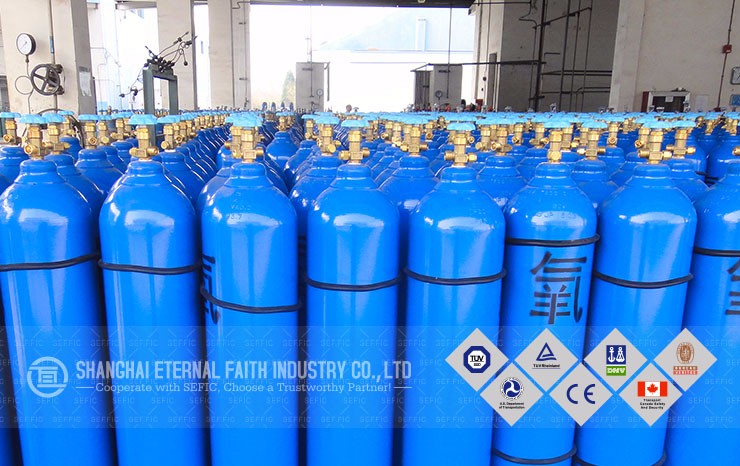 High pressure oxygen gas cylinder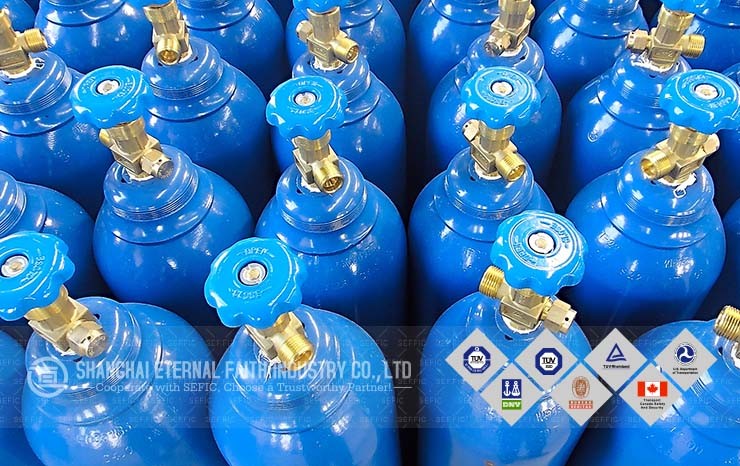 The high quality valve for oxygen cylinder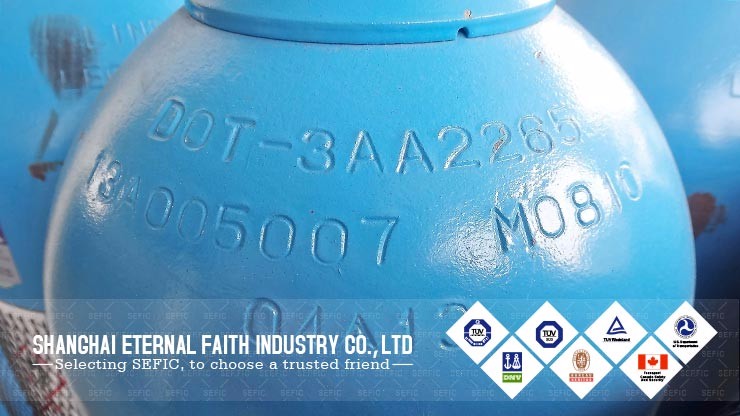 The exquisite and accurate Mark for oxygen cylinder Cylinder Process

  Selection of high quality raw materialsSEFIC introduces advanced equipment, technical standards and quality management system and carries out strict production operation and quality inspection actively so that each team has accurate task and clear responsibility.   We also have implemented strict complete quality and security control system, which ensures that each gas cylinder can meet the quality and security requirement of our customers.
There is a saying: "one can't make bricks without straw." We believe that material quality is a prerequisite for high-quality gas cylinder, so SEFIC adopts strict control on raw materials procurement procedures and implementation of occasional sampling system.
Most of our raw materials come from the cylinder Shougang group shougang qian'an iron & steel company, and we have quality certificate of each batch of materials.  Pipe inspection and blankingThere are detailed and long-term records and reports of work stress, internal stress, strength, ductility, hardness, toughness and other mechanical properties and machinability properties, malleability, castability, weldability and thermal expansion, magnetic, electrical and other physical and technological properties of raw material.  Heat shrinkage bottom and bottle mouthHeat shrinkage bottom and bottle mouth directly affects the qualified rate of the late cylinder, cylinder operator need to carefully fill in the bottle wall thickness, and the appearance, manufacturing tolerance and original records, such as data and bottom anatomy test report single, closing and collected at the end of the monitoring records to facilitate later product quality tracking.  Heat treatmentFirst preheating, the test ring above the specimen captured test, then the cylinder body is put into the thermal aging furnace heat treatment, to gradually eliminate the stress of steel cylinder body, cylinder visual inspection after the heat treatment of the cylinder, scrapped the deformation, cracking and brittle fracture of the cylinder.  Shelve to relieving of internal stressSEFIC engineers believe that heat treatment is the most important to eliminate internal stress, but only by heat treatment to eliminate internal stress is not enough, to the extent to reduce the use of hidden dangers in the latter part of the cylinder after the heat treatment, the cylinder in the factory to use 15-20 days, to use natural aging to eliminate residual stress.  Mouth processing and Internal flushingIn the late use of gas cylinder, gas contains trace oil, gas bottle valve or cylinder after the use of non - off valve side of the bottle, so that the acid, alkali, combustible or other impurities fall into the bottle, will lead to the corrosion of gas cylinder, so that the body of the cylinder is very important to clean and dry.  Weighing and testing the mechanical propertiesMechanical gas cylinder, hardness, and the degree of linear correlation detection and tensile test, impact test and flattening test, the unqualified gas cylinders do recording, isolation, processing, such as the case of batch unqualified cylinders, cause analysis is carried out to find the problem, and timely credited to the steel bottle archives.  Hydraulic testWe change gas cylinder hydraulic pressure measured method in bottle test conditions, and the computer control technology, overcome the pressure gas cylinder closed beta test were affected by the experimental conditions affecting the shortcomings of, so as to improve the measurement accuracy, to fit the conditions of mass production.  Install bottleneck and internal dryingCompleted after water pressure test cylinders must immediately remove the internal cylinder of water drained, through the cylinder internal dry device for drying operation, to avoid the cylinder internal rusting and impact on the quality of the products, thus affecting subsequent inspection. So the cylinder drying is an important part of the process of production and inspection.  Install valve and gas leakage testWill fill the Tank with the provisions of the pressure gas tank, so that any part of the cylinder from the surface minimum depth greater than 5cm, to check the gas tightness, through the mechanical slowly rotating cylinders, observe the wall of the bottle is no bubble, such as found in the gas bubble or bubble, then need to sort out.  Stamped and Install capThe gas cylinder seal has two parts: gas cylinder manufacture seal and gas cylinder inspection stamp. Making seal includes gas filling name, serial numbers of the cylinders, experimental pressure, working pressure, the weight of the cylinders, cylinder volume, the bottle design wall thickness, production time, etc.; the inspection stamp including unit test code and test date.  Shot blasting and derustingShot blasting is not only in order to remove the surface oxide skin and sand casting, and also to check the quality of the casting before an indispensable preparation procedure, shot blasting can also increase the dislocation structure, to improve the strength and fatigue strength of cylinder body has a important significance, and the spray paint technology to prepare.  Paint and dryingPaint can in the cylinder surface to form protective film, can prevent or delay of cylinders by prolonged exposure under the water, microorganism erosion caused by metal corrosion, can also use color to mark the bottle of gas, for electrical insulation, anti fouling, anti resistance, heat insulation, radiation resistance, conductive, magnetic etc. also has a certain role.  Finished product inspectionEvery batch of gas cylinders (200 pieces as one batch normally) are manufactured and tested under supervision of local special equipment inspection and research institute and then issued batch test report.Of course,each finished gas cylinder before delivery to customers has to pass leakage test to ensure no leakage occurs.  Spray word or PrintingAccording to customer requirements, SEFIC to spray the surface of the printing cylinder customers need to text, it can play the difference between a logo and brand promotion of the role of complete, customers can design their own spraying the contents of the cylinder surface, of course, SEFIC also be free for you design.  Random inspectionRandom sampling is an important part of quality control cylinders, inspector through observation, measurement, test and judge, a conformity assessment carried out on the upcoming cylinders manufactured, and quality inspection of product quality inspection agency can invite to Plant for testing, or after the invitation to the customs inspection agency to customs to detect.  PackagingThe gas cylinder usually packed by pallets, wrapped by pvc, also can use the bulk loading , if you have other requirement of the package of the gas cylinder, we also can do it as your required! We are always packaging the gas cylinders carefully, and we will be responsible for each gas cylinder, you can rest assured to cooperate with us!  Declare to customsSEFIC is an integrated company which designs, manufactures, sales and services in the pressure vessel field, We have CE, TPED, TUV, etc. on the pressure cylinder production and sales certificate, can be directly through the freight forwarding customs procedures, so far, sefic had serviced more than 60 countries clients.  Attached to the container cabinetUsually SEFIC contact forwarder to pull the container to the SEFIC plant, and then carry out the cylinder loading. If the gas cylinders packed by pallet, it's easy to load them into the container and unload them from the container. If you need to bulk, we can also do it, but we don't normally recommend doing so, this may in the transport process may damage to the cylinder of paint.  DeliveryOnce we receive your purchase order and deposit money, we will be reviewed and arrange for production as soon as possible, we are committed to producing better gas cylinders and services, and to inform you that inspection, after inspection, we will give the contract agreement your delivery, Please note the check and give us a single receipt......FAQ
What Capacity?

Q:What is the capacity of the oxygen cylinder you can provide?
A: 40L oxygen cylinder is the bestseller, we can offer 2L- 80L cylinders as your required.

 

Delivery Time?

Q: What is the delivery time of the gas cylinders in sefic?
A: 25 Days once deposit received and workshop drawings confirmed about the cylinder.

 

Certification?

Q:What certificates do you provide for oxygen cylinders?
A:We are authorised by ISO/GB/TPED standards.

 

Packing?

Q: Can you detail about the oxygen cylinders, packing and shipping?
A: Packed by pallets can load 250 pieces in one 20ft container; If the cylinder use Bulk
loading can load 450pieces in one 20ft container

 

Any Protection?

Q:Do you have any protection for the head of the cylinder?
A: Yes, in SEFIC, each gas cylinder is equiped with a tulip cap which can make sure
the safety of the gas cylinder during the transportation.

 

SEFIC
Advantages?

Q: Why SEFIC is more worthy of our choice?
A:1. Original Manufacturer: SEFIC has professional equipments for gas cylinders.
2. Large Output capability: SEFIC has the capability to produce more than 50,000pcs of Gas Cylinders per month.
3. Series: SEFIC has different series and models for different standards.
4. Exporting experience: We have 30 years' experience for exporting business.

 

Special
attention?

Q: Do you have any special attention about the oxygen cylinder?
A: Yes, Pressure vessel is carrying a certain pressure or placing explosive devices goods, which have certain risk, so SEFIC have the following recommendations:
1. The High Pressure Gas Cylinders should be stored in dry cool place, away from heat. And fireworks prohibited when use it. High Pressure Gas Cylinders shall not fall, impact and need to avoid exposure during transportation.
2. Pay attention to safety use because the gas cylinder is flammable and explosive.

 
  Company Information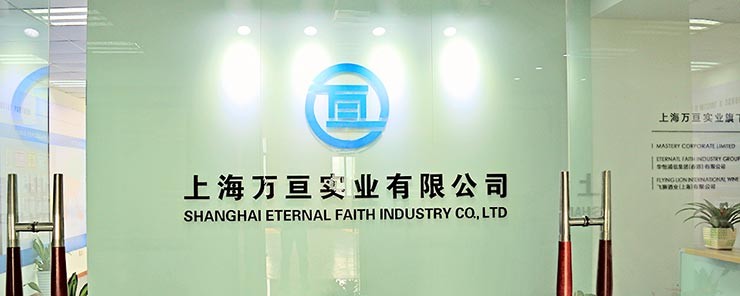 Located in Shanghai, SEFIC is a professional supplier of gas and gas equipment. Founded in the 90s, the company has already accumulated enough experience and became one of the best suppliers of all kinds of gas and gas equipment. Besides, it is one of the earliest in the country to gain the License of Pressure Vessel Type A2 and C2, ISO9001 and ISO14000 Certification, Private Hi-Tech Enterprise, Hi-Tech Enterprise, and Special Equipment Manufacture Permission. We almost can supply all kinds of gas cylinders with TUV, TPED, CE and DOT certification.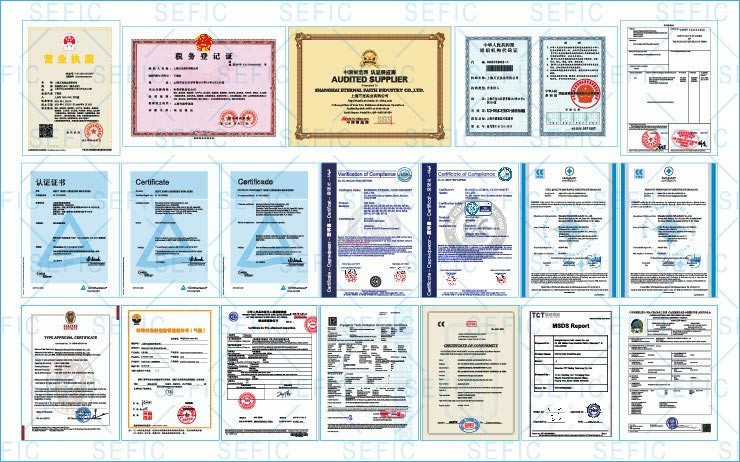 SEFIC certificate of the gas cylinderWe have more than 30 years experience in gas equipment industry and have gained a sound reputation all over the world. Our products have served customer satisfaction from more than 50 countries all over the world. So far, our business has expanded globally to countries and regions such as the US, EU (mainly Germany, Portugal, Romania and Bulgaria), South America (mainly Chile, Peru and Bolivia), and Africa (mainly Angola and South Africa).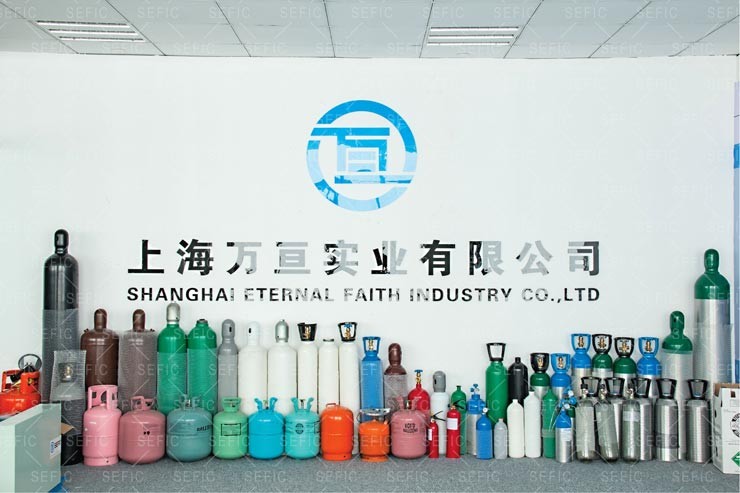 SEFIC gas cylinder sample display areaSEFIC has rich experience in business operating and management, and own capability of processing various gas cylinders.SEFIC have adopted certifications of ISO by International Standardization Organization, DOT of America, TC of Canada, TUV of Germany, KGS of Korea and some other certifications. Adhering to the Corporate Philosophy of " regard quality as credit, credit as brand and brand as life", and "Repeat simple things, do repeated things with heart, quality goods comes out of concentration". With safe and dependable products and quality service, SEFIC has established good corporate image and won recognition and praise of the industry.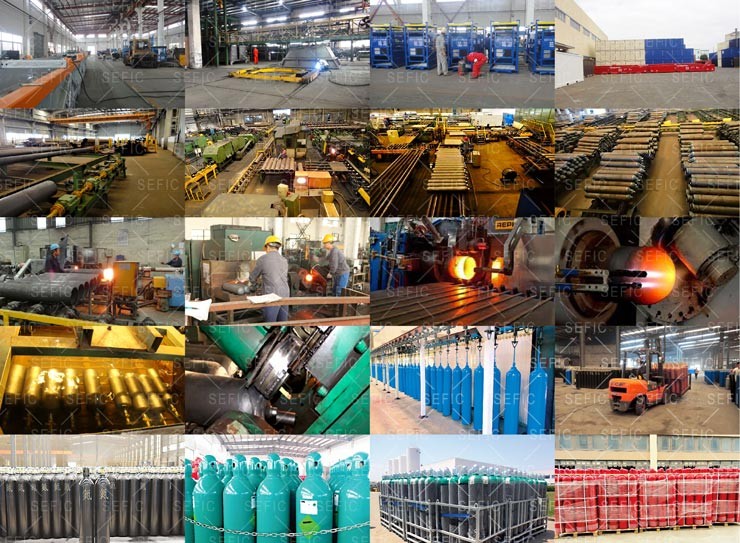 General situation of SEFIC gas cylinder productionIn the year 2005, we strove to realize transformation and global market expansion by growing from a gas equipment manufacturer into a gas project solution supplier and set up overseas marketing teams in our headquarters.By providing gas equipment and technology support to several establishments of new ,plant, we thrived the growth of the company.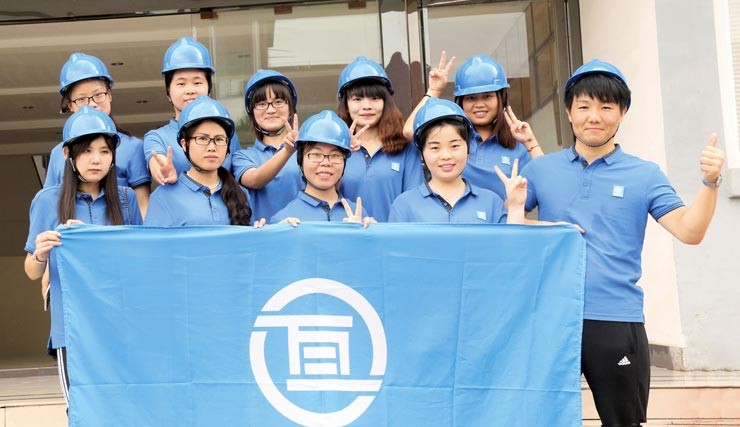 SEFIC sales team for foreignersWith high-quality products, competitive prices, fast delivery time and superior service, SEFIC won the customer's trust and praise. Since 2005, SEFIC has established trade relations with more than thirty thousand customers in more than 50 countries and regions. Many of our VIP clients have visited SEFIC repeatedly and discussed the regional agency service with us. Currently, SEFIC has established product agency services with clients in Italy, Saudi Arabia, South Africa, Uganda, Cambodia, Kuwait, Iran, Malaysia and other countries and regions.Cooperation with SEFIC, we have the following advantages:HIGH QUALITYSEFIC has implemented a strict and complete quality control system, which ensures that each gas cylinder can meet quality requirements of customers, and all cylinders have been strictly inspected before shipment.LOWER PRICESEFIC always supply the lower price! We never stop trying to find new ways to reduce the gas cylinder cost, so that we can offer our customers a competitive price. Cooperate with SEFIC, Choose a Trustworthy Partner! QUICK DELIVERY TIMEWe are committed to work hard to ensure that every shipment of the gas cylinders are safe, punctual arrival, we have a lot of partners which always provide the most rapid means of transportation.GOOD SERVICESEFIC has different series and models, for different standards in different countries, and we are committed to providing the best service. Cooperate with SEFIC, Choose a Trustworthy Partner! ORIGINAL ManufacturerCooperation with SEFIC to achieve the sales relationship from the manufactory to the customer, can improve the production and delivery efficiency of the gas cylinder.LARGE OUTPUTSEFIC has professional equipments for gas cylinders. We have the capability to produce more than 50, 000pcs of Gas Cylinders per month. EXPORTING ExperienceSEFUC has implemented a strict and complete quality control system, which ensures that each gas cylinder can meet quality requirements of customers, and all cylinders have been strictly inspected before shipment.OEM ACCEPTEDWe accept OEM work, SEFIC can manufacture gas cylinder handle, gas
cylinder cap
,
Gas cylinder valve
, gas cylinder Mark and gas cylinder color as your required. Contact UsContact UsManager: ella
Email: ella_sefic@sefindustry. com 
M.P/Whatsapp: 0086-18917318132 Fax: 0086-21-6601 9679
Skype: ellazhou996  Web: www.sefic.com.cn
ADD: NO.6598., Hutai Road, Baoshan district Shanghai, China 201908 Contact us if you need more details on Cga 580 Valve 40l Oxygen Argon Gas Cylinder. We are ready to answer your questions on packaging, logistics, certification or any other aspects about 40l 6m3 Oxygen Argon Gas Cylinder、Iso9809 Seamless Steel Water Capacity 40l 6m3 Oxygen Argon Gas Cylinder. If these products fail to match your need, please contact us and we would like to provide relevant information.
Product Categories : Cylinder > Seamless steel gas cylinder