Product Description
HC Type Oxygen Supply Apparatus Details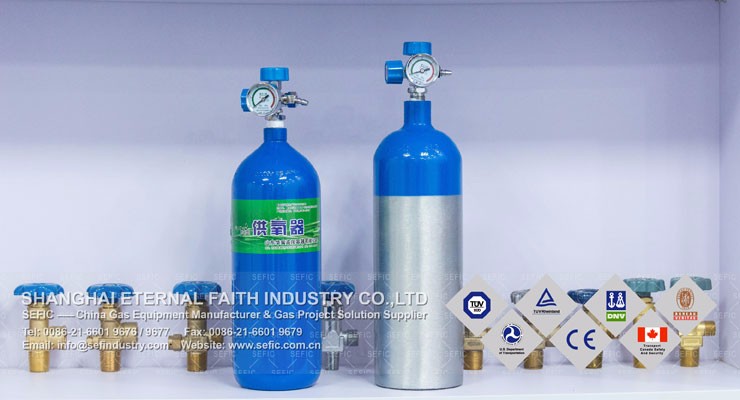 HC Type Oxygen Supply Apparatus within Seamless cylinders and aluminum cylinders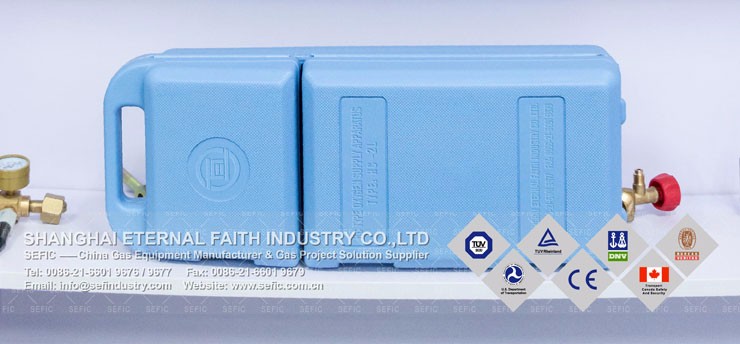 HC Type Oxygen Supply Apparatus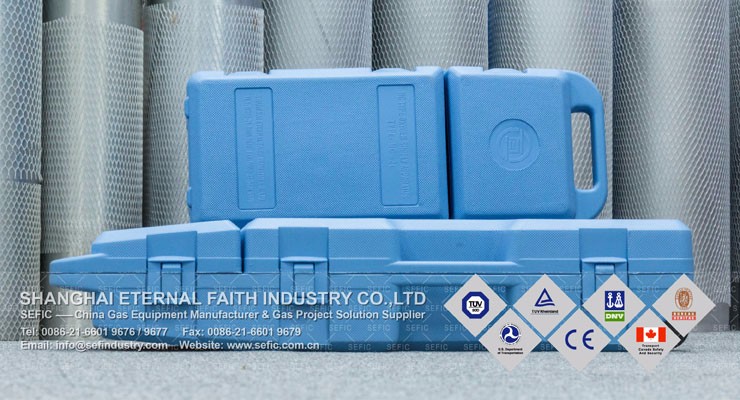 HC Type Oxygen Supply Apparatus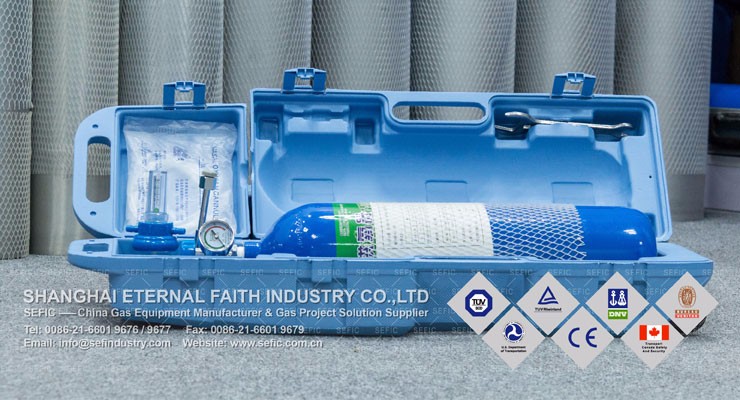 HC Type Oxygen Supply Apparatus Packaging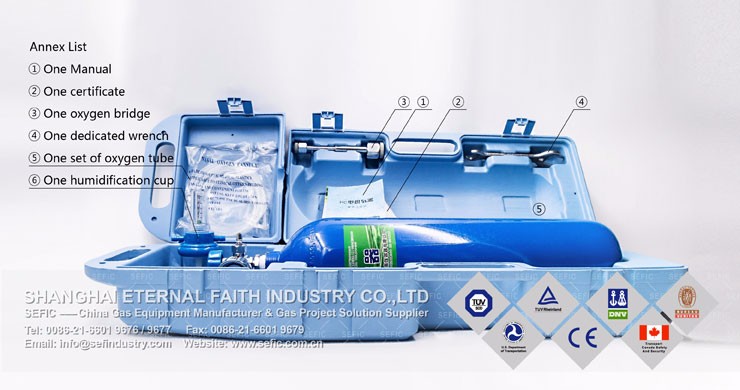 HC Type Oxygen Supply Apparatus Packaging List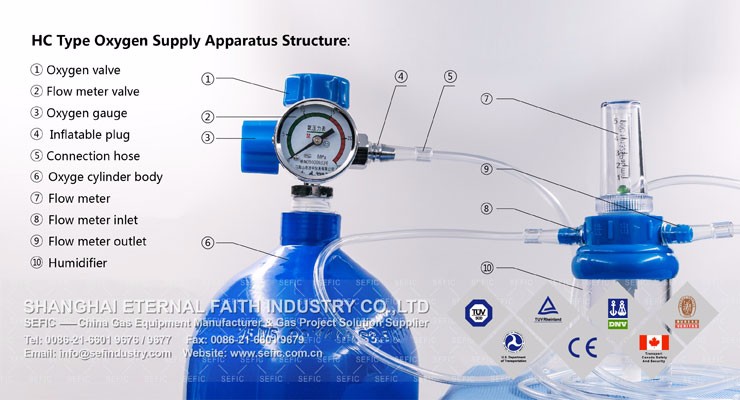 HC Type Oxygen Supply Apparatus Main Product Structure
Structure: Oxygen cylinder ,Regulator, valve, flow meter switch, oxygen gauge,humidifier,oxygen Hose and so on.
Performance: This product is equipped with a pressure gauge and a flow meter. Oxygen pressure gauge indicates the oxygen pressure when absorbing oxygen. And it also has the voltage stabilizer which makes its output stable and the oxygen supply apparatus can be adjusted continuously at the range of rate 0 to 5 liters per min.
Applicable Scope: Suitable for the timely rescue of the patients with heart and cerebrovascular diseases and for meeting the daily oxygen need of other patients with chronic respiratory tract, cerebral anoxia diseases and other diseases.
How to Use HC Type Oxygen Supply Apparatus ?

1) Unscrew the humidifier lid and add mineral water or cold water to the water line.
2) Pay attention to the marks of the oxygen input and output on the humidification cup lid when connecting the oxygen tube. Be sure to connect the right.
3) Open the pressure gauge of oxygen supply handwheel to display the oxygen pressure in the bottle.
4) Slowly open the handwheel of flowmeter and it shows the flow.
The float in the float flowmeter are the rates( liters / min) of oxygen flow.
5) Hang the ear-hook on the ear and insert the nasal catheter into the nasal cavity. Then begin to take in oxygen. In addition, each oxygen-uptake time should be 10 to 20 minutes and no more than 60 minutes per day is appropriate.
How to Fill Oxygen ?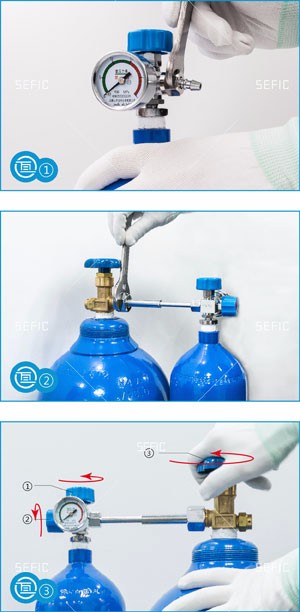 1) Close the oxygen supply handwheel; Unscrew the oxygen filling screw-plug with a dedicated wrench.
2) Connect the oxygen supply apparatus to the oxygen source (large oxygen Cylinder) with an oxygen bridge ; Open the switch of oxygen source (large oxygen cylinder) and then slowly open the oxygen supply handwheel. It is full of oxygen when the pressure gauge pointer stops rising.
3) When filling, close 2, open 3, and then open 1. When finish, close 1 and then close 3, remove the oxygen bridge and tighten the oxygen filling screw-plug.
Technical Parameters of Using Products with Various Types
Type
Water Capacity
OSC
Using Time
Approx. Weight
Cylinder Size
Working Pressure
2L
2L
290L
3-3.2(H)
4.5 (KG)
φ89*425 (MM)
15 (Mpa)
4L
4L
580L
6-6.5(H)
8 (KG)
φ121*480 (MM)
10L
10L
1450L
15-17(H)
14 (KG)
φ159*780 (MM)
Note: 1) Highest oxygen storage pressure: 15 MPa.
2) Using time: Calculating by the working pressure (10-15) MPa flow rate of 1 liter / minute. It does not consider the oxygen allowance in the oxygen bottle.
Common Faults and Treatment
Fault Phenomenon
Fault Cause
Approach
Oxygen using time is less than usual.
The oxygen pressure in the cylinder does not reach the required standard when filling oxygen.
Fill oxygen again.
When using oxygen device, flow regulation is too large.
Adjust to the appropriate flow when using it.
The switch of oxygen supply apparatus is not completely closed which leads to the oxygen leakage when not used.
Close the switch of oxygen supply apparatus when not using it.
When taking in oxygen, the amount of bubbles in the humidification cup is normal and there is a little oxygen in the nasal.
Wet cup liner is not installed or damage Oxygen tub conncetion loose or damaged
Re-install or replacement.
Scope of Application
1) It can be used in the treatment of cardiovascular, respiratory and heart disease, other severe hypoxia symptoms such as Gas poisoning and other illnesses.
2) It can improve the physical condition of oxygen to achieve the purpose of health care. It is suitable for the people in different levels of hypoxia , such as the elderly with poor physical fitness, pregnant women, senior students. It is also used for eliminating fatigue and recovering physical function after we consumed heavy physical or mental power.
3) It can reduce and delay the onset of disease. It is useful for delaying the aging and onset of the human heart, brain, lung, spleen, liver, kidneys and other vital organs.
HC Type Oxygen Supply Apparatus Notes
1) Strictly prohibited to disassemble. Please send the oxygen supply apparatus to production units or repair stations timely when it fails.
2) Strictly prohibited to fill in other gases.
3) Avoid oil and hitting ,be far away from fire, inflammable and explosive materials ,avoid etching gas/liquid and long time exposure to strong light.
4) The pressure shouldn't exceed 15 MPa when filling oxygen.
5) According to the national standard, it requires that the pressure of oxygen bottle/cylinder needs to be tested every three years. Please contact your local pressure inspection units.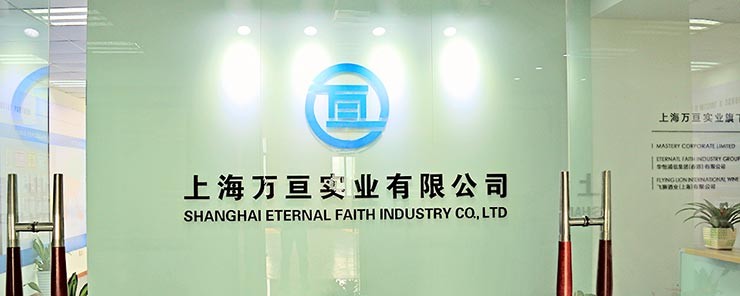 Located in Shanghai, SEFIC is a professional supplier of gas and gas equipment. Founded in the 90s, the company has already accumulated enough experience and became one of the best suppliers of all kinds of gas and gas equipment. Besides, it is one of the earliest in the country to gain the License of Pressure Vessel Type A2 and C2, ISO9001 and ISO14000 Certification, Private Hi-Tech Enterprise, Hi-Tech Enterprise, and Special Equipment Manufacture Permission. We almost can supply all kinds of gas cylinders with TUV, TPED, CE and DOT certification.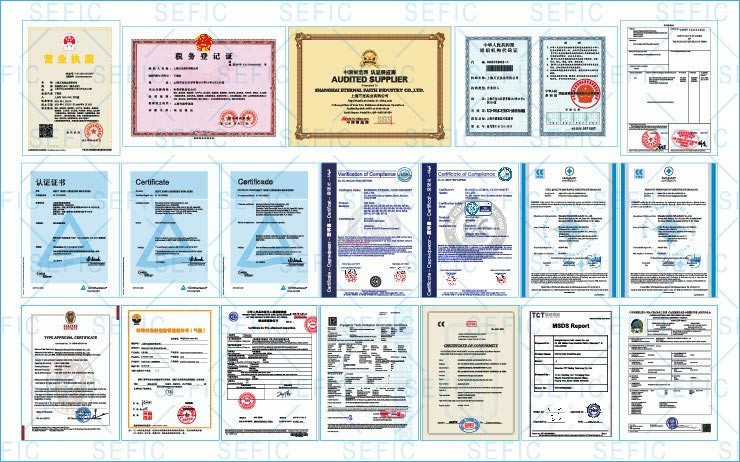 SEFIC certificate of the Gas Cylinder
We have more than 30 years experience in gas equipment industry and have gained a sound reputation all over the world. Our products have served customer satisfaction from more than 50 countries all over the world. So far, our business has expanded globally to countries and regions such as the US, EU (mainly Germany, Portugal, Romania and Bulgaria), South America (mainly Chile, Peru and Bolivia), and Africa (mainly Angola and South Africa).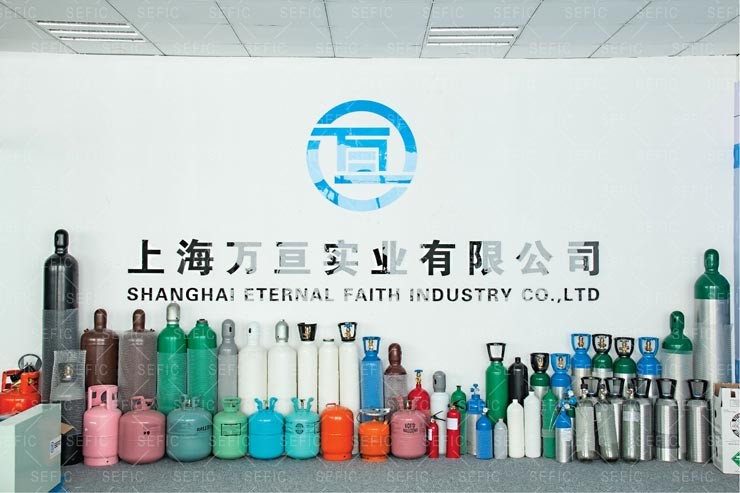 SEFIC gas cylinder sample display area
SEFIC has rich experience in business operating and management, and own capability of processing various gas cylinders.SEFIC have adopted certifications of ISO by International Standardization Organization, DOT of America, TC of Canada, TUV of Germany, KGS of Korea and some other certifications. Adhering to the Corporate Philosophy of " regard quality as credit, credit as brand and brand as life", and "Repeat simple things, do repeated things with heart, quality goods comes out of concentration". With safe and dependable products and quality service, SEFIC has established good corporate image and won recognition and praise of the industry.
Contact us if you need more details on Medical Oxygen Cylinder. We are ready to answer your questions on packaging, logistics, certification or any other aspects about Medical Portable Oxygen Cylinder、Medical Oxygen Cylinder Sizes. If these products fail to match your need, please contact us and we would like to provide relevant information.
Product Categories : Cylinder > Aluminum gas cylinder